Biofreeze Pain Reliever is now available from Gauck Chiropractic!
3oz Roll-On Tube
$12.75 + tax
4oz Spray
$14.75 + tax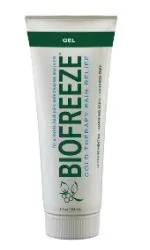 4oz Gel
$14.75 + tax
---
Purchase Information

Flat-Rate Shipping: $5.60/order.
Includes tracking and insurance.
Click the Add to Cart button for the desired product. Your Cart will open up in a new window.
After you have added an item to the cart, you may click "Continue Shopping" to return to this page, or click "Check Out" to make your purchase with a debit or credit card. You may also choose to "Check out with PayPal".
At any time you may click the View Cart button below to return to your cart.